The Dental Career Guide for New Dental Students: Everything You Need to Know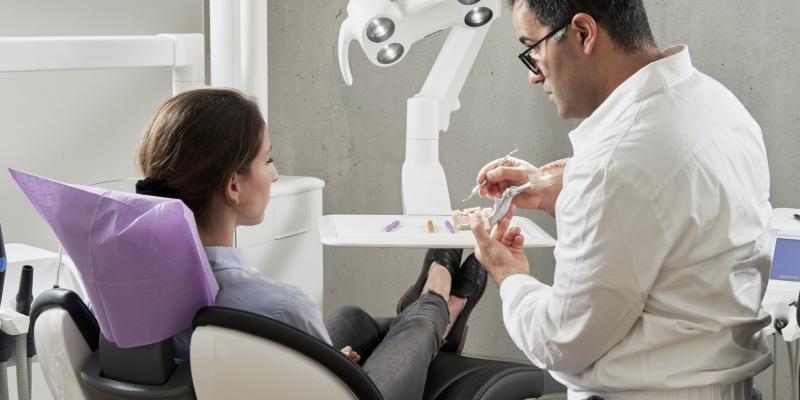 If you're considering a career in dentistry, it's important to know what you should expect. This guide will teach you everything you need to know about the field, including what your potential job title might be and the benefits of being a dental professional. Along with learning about the skills needed for this profession, you'll also discover how your education may differ from that of other professions.
This guide is designed for people who just graduated high school and are considering their first steps into the world of dentistry. It covers everything from career options and salary expectations to training programs and work-life balance, so get ready to learn!
The Dental Career
Dentistry is a field with many career options, so it's important to make sure you're considering all your options. This guide might be helpful in helping you decide if being a dentist is the right choice for you. It includes information on what your potential job title might be and the benefits of being a dental professional.
There are different types of dentists, but most common titles include orthodontist, oral surgeon, prosthodontist, and endodontist.
Each type of dentist has its own set of skills, including knowledge of specific topics like orthodontics and dentistry procedures such as root canal therapy or tooth extractions.
Some aspects of dentistry can be learned through continuing education courses or training programs- like taking a residency program with a dentist who specializes in reconstructive surgeries or attending a specialized course for prosthodontists who specialize in implants- while others may need to be completed during the course of your career- like completing an oral surgery fellowship after completing an orthodontic residency.
Dental Job Titles

A dental job title is a term that describes the type of work an individual does as a dentist, dental hygienist, or dental assistant. This guide discusses all types of job titles, including general dentists and specialists.

Dental practitioners work in several different areas within dentistry. These include: general dentists, endodontists, oral surgeons, orthodontists, periodontists, and prosthodontists.
The Benefits of Being a Dentist
If you choose to become a dentist, you will have the opportunity to help others in need. You'll be able to help people maintain their dental health and provide them with treatments that they need -- whether it's a filling or a root canal. This might include developing new techniques and techniques for treating conditions like gum disease and cavities. You'll also have the opportunity to make your own hours, which is beneficial for keeping up with your family life outside of work.
Just like other health professionals, you'll also get to meet new people every day and develop relationships as you treat patients to improve people's health. Dentists are also often in demand because they are seen as highly qualified health professionals who have the necessary skillset needed for this job.
What to Expect in the Training Programs
If you're considering a career in dentistry, it doesn't matter if you want to be an oral surgeon, endodontist, orthodontist, or pediatric dentist. All of the training programs will have similar requirements and they all require a four-year degree. The only difference is that some programs may require more than one year of clinical training and others may not.
At the end of your training program, you'll be eligible to take the National Board Dental Examination (NBDEX). You'll also need to pass a number of other exams before becoming licensed by the state board in which you're located. But don't worry! Your training program will provide everything you need to know about what's needed for licensing.
How Does Your Education Differ From Other Careers?
The education needed can be much different than other careers. For example, it's not unusual for dental students to graduate with a Bachelor of Science in Dental Hygiene. Your career options in dentistry will depend on what type of degree you have and the specialty or general practice that you choose. If you're considering a career as a dentist, you'll need to finish at least four years of undergraduate study and then complete one year of post-doctoral residency training. This is followed by two years of apprenticeship training before you are able to become licensed and practice independently.
Responsibilities and Skills
Dentists are responsible for several different duties that require specific skills. They must be skilled in the oral cavity and its surrounding structures, as well as very knowledgeable in the field of dentistry itself. Dentists must also have excellent communication skills, be detail-oriented, and able to negotiate with patients to come up with an individualized treatment plan.
Dentists also work with other health professionals, such as doctors and dental hygienists, to provide care for patients, just like other fields such as elder care and even skin care. Dentists learn how to keep their own teeth healthy by brushing and flossing daily and visiting the dentist twice a year for checkups on their gum health and oral hygiene. They will typically spend about 60 percent of their time working in an office.
What to Expect in the First Few Years of Practice
First, new dentists will take an exam to become licensed by their state. After that, they'll start working in a dental clinic or hospital as an assistant or hygienist. This is usually the first step on the ladder for most dentists and serves as a way for them to gain experience in seeing patients under real-life conditions.
Next, most dentists will work through a number of jobs and positions in order to gain more experience before moving up the career ladder. These could include positions such as dental assistant or dentist's assistant, which are typically entry-level positions with lower pay and fewer responsibilities. Dentists will also be required to get additional training and education in order to move up the career ladder. Finally, once they've reached a certain level of success and expertise, they may be able to open their own private practice or join a large dental center.
What Do You Need To Get Into This Field?
Dentistry is a very specific field that requires specific skills, so if you're considering this career, you'll need to be prepared. The requirements for becoming a dentist are not easy to meet, but the rewards can be worth it. In order to get into this field, you'll need to complete at least four years of undergraduate study in one of the following:
Bachelor of Science in Biology and Chemistry
Bachelor of Science in Biochemistry
Bachelor of Science in Microbiology
Bachelor of Science in Forensic Science and Biology with an emphasis on forensics
A Bachelor's degree from any other university may also fulfill these requirements (but will be evaluated on a case-by-case basis). You might also need to have pre-requisite courses such as organic chemistry, math, and physics before entering the field.
Conclusion
Dental careers are here to stay, and with that comes a wealth of opportunities for those who want to make a dent in the world of dentistry. Dentistry is a relatively new career field, but the demand for dentists is continually growing. So whatever your age, gender, or background, if you're interested in dental care you have a lot of options available.
comments powered by

Disqus