4 Things To Consider Before Pursuing A Nursing Career

If you're a person who loves making a difference in the lives of people or helping them, nursing may be a good profession for you. Nursing is one of the most fulfilling careers for people who like the aspect of being personal, as well as many opportunities, rewards, and a lot of challenges. With a nursing career, you'll be able to change the lives of countless people.
The need for medical attention in the world continues to grow, which makes nursing a career in high demand. You can work anywhere in the world as a qualified nurse. If you're an undergraduate student, practitioner, graduate student, or a resident looking for nursing opportunities abroad, you can apply for one at International Medical Aid (IMA) and get a chance to work in East Africa, the Caribbean, and South America.
On the other hand, if you haven't done a course in nursing, but have the desire, study the following things that you need to know before getting your two feet into the field.
Nurses Work In Shifts
The amount of time in a shift is different and would depend on your work environment. A nurse who works in private practice may work for five shifts of eight hours each, a total of 40 hours in a week. On the other hand, a nurse in a hospital is required to work three shifts each 12 hours, 36 hours in a week.
The difference between the two is because hospitals work 24/7, and the 12-hour shift ensures that a patient is taken care of by only two different nurses in a day. Full-time nurses in a hospital work 36 hours, while part-time nurses work for 10 to 30 hours a week. However, this might not be the case due to a shortage of nurses.
Nursing Has A Variety Of Career Opportunities
There's a large pool of careers that you can choose in the nursing field. Below are some of them:
School nurses: Their specialty is matters that affect children, mostly preschool up to grade 12. Apart from caring for sick students in school, they also administer care to students with chronic diseases, like allergies, asthma, and diabetes. They also care for disabled students in schools and get involved in promoting hygiene, exercise, wellness, and nutrition, among others.
Hospice care nurses: They care for patients who are at the end of their lives and make sure they're comfortable as possible. Their specialty is palliative care and possesses great communication skills for helping patients, together with their families.
Nurse educators: You'll find them in nursing schools and hospitals. Those in hospitals work alongside student nurses and guide them on how to care for patients. They also work with medical researchers in hospitals. In colleges they are lecturers, teaching in class and evaluating students.
Certified nurse-midwives: These are advanced practice registered nurses (APRNs), with an extra advanced degree and added experience. Their work is to monitor expectant women throughout their pregnancy and aid in child delivery. In case of a complication that needs specialized medical attention, they take the pregnant patient to the hospital.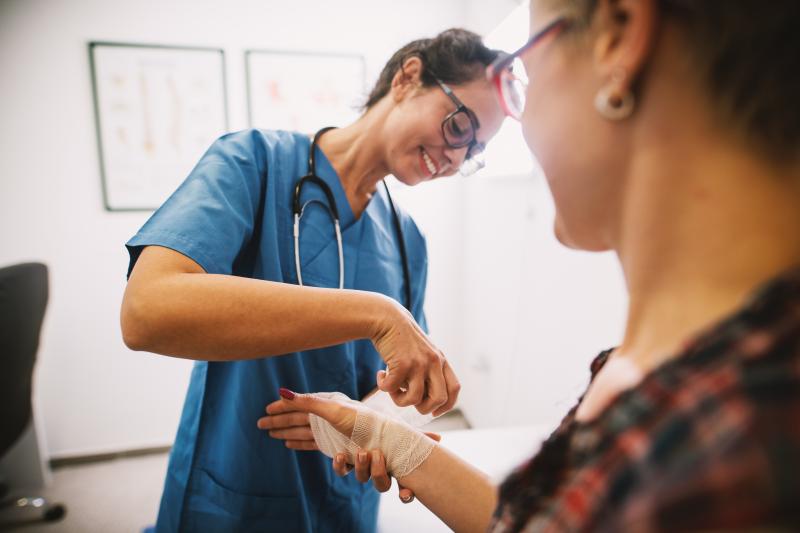 Nursing Requires Advancing Education
Nursing care is constantly evolving as medicine advances, making it necessary for you as a nurse to further your education. In many states and hospitals, it's a requirement for nurses to successfully pursue certain stages of advancing education after every two to five years to keep their licenses valid.
The areas given much focus are controlled substances, pain management, clinical management, bioterrorism, HIV/AIDS training, domestic abuse, veteran's health conditions, ethics, and recognizing child abuse.
Nursing Mixes Science And Service
Nursing as a career falls under the category of sciences. However, it has aspects of art that are based on the moral compass and intuition of a nurse. As a nurse, you need hard skills, such as education, experience, and techniques, combined with soft skills, like teamwork, communication, problem-solving, professionalism, and empathy.
Nursing instructors should mentor and establish work environments that help nurses hone their soft skills. This improves teamwork and collaboration, hence, bettering your patients' lives. Once you've decided to be a nurse, practice your soft skills from the onset of your career.
Conclusion
To pursue nursing, you need a made-up mind to be committed to the education grilling and the challenges thereafter. You need to develop a thick skin and strong spirit as you'll witness some of your patients pass away in your hands. These are hard facts that you can't reverse. Some issues that you'll be faced with may be beyond your remedy. At times, you may get distressed, thus, the need to work closely with a senior nurse or doctor to give you moral support. Where you sense the need for a counselor, reach on to one and get the help you need.
comments powered by

Disqus